Hilltop Red Apple Market
Recipes
https://www.theredapplemarkets.com/Recipes/Detail/5773/Zesty_Chicken_and_Pasta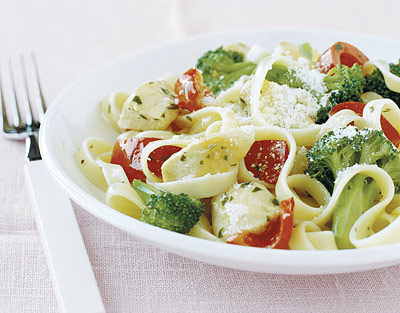 Zesty Chicken and Pasta
A light and healthy entree that will satisfy your hunger!
Customer Rating:
1 Ratings 0 Comments
Yield: Serves 6
Nutrition Facts
Yield: Serves 6
Approximate Nutrient Content per serving:
Calories:
387.4
Calories From Fat:
63
Total Fat:
7g
Saturated Fat:
1.6g
Cholesterol:
94.7mg
Sodium:
341.1mg
Total Carbohydrates:
33.5g
Dietary Fiber:
3.3g
Sugars:
2.4g
Protein:
44.2g
Directions:
Cook and stir chicken and 1/4 cup of the dressing in large skillet on medium-high heat 4 minutes or until no longer pink. Add broccoli, onion, red pepper and parsley; cook until tender, stirring occasionally. Toss with pasta and remaining 1/4 cup dressing. Sprinkle with cheese.
Recipe Compliments of Kraft Kitchens
Please note that some ingredients and brands may not be available in every store.
Hilltop Red Apple Market Recipes
https://www.theredapplemarkets.com/Recipes/Detail/5773/