Hilltop Red Apple Market
Recipes
https://www.theredapplemarkets.com/Recipes/Detail/8292/Flash_Fried_Hatch_Pizza_Nibbles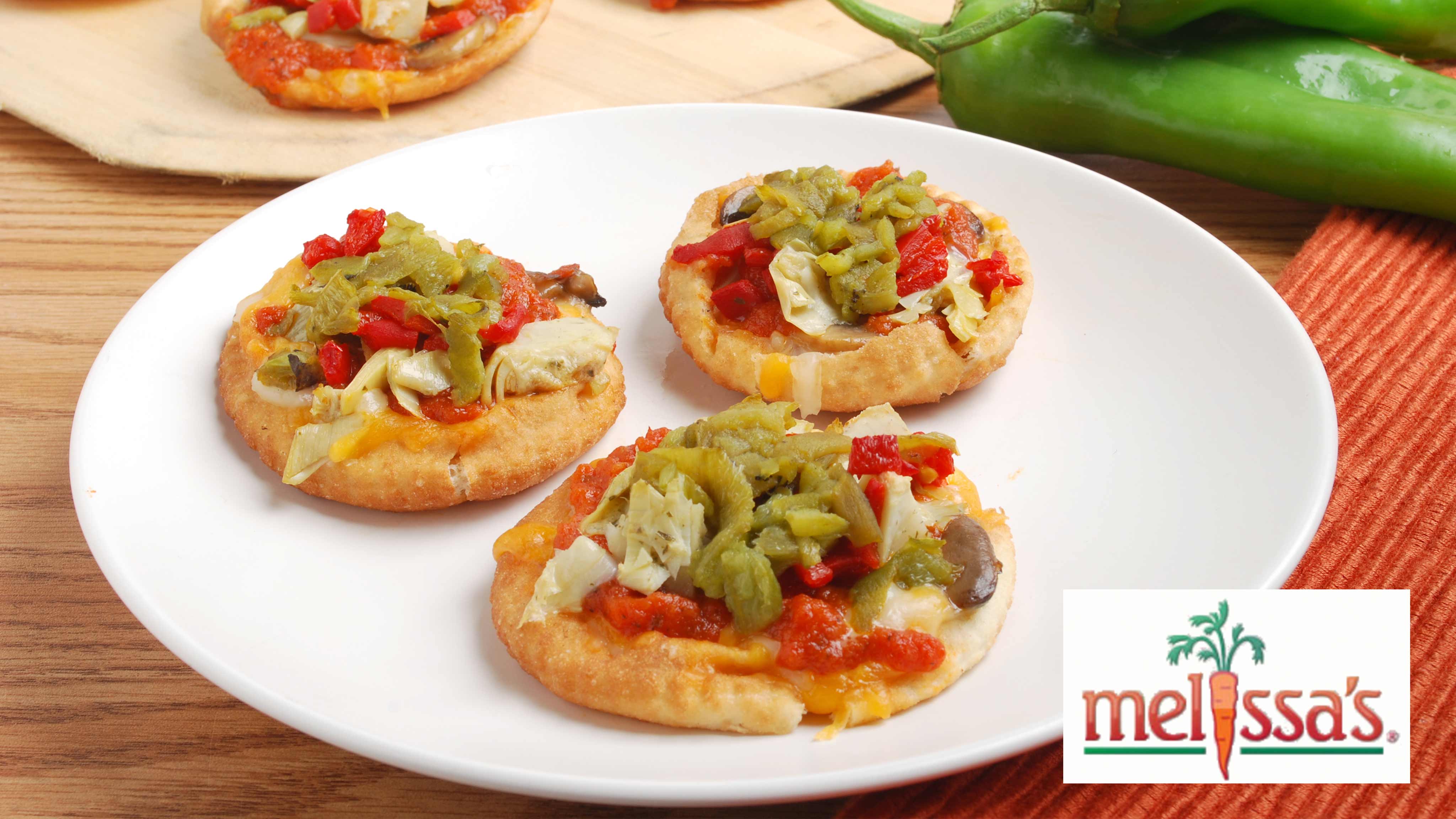 Flash Fried Hatch Pizza Nibbles
By Melissa's Corporate Chefs
Yield: 36 pizza nibbles
Ingredients
For the dough:

1
cup

warm water

1
tablespoon

honey

2 1/2
teaspoons

dry active yeast

2 1/2
cups

all purpose flour

1/2
teaspoon

sea salt

2
teaspoons

Melissa's Organic Grinders Italian Seasoning

2
tablespoons

extra virgin olive oil

Canola oil, as needed

For the topping:

1
jar

your favorite pasta/marinara sauce

5
each

Melissa's Hatch or Pasilla chiles, roasted, peeled, and chopped

1
jar

Melissa's Pimientos del Piquillo, drained and chopped

2
jars

marinated artichoke hearts, drained and chopped

2
cups

sliced button mushrooms, sauteed and cooled

1
cup

your favorite shredded cheese
Directions:
In a small bowl, mix the warm water and honey together and then stir in the yeast. Set aside and let stand for 15 minutes.

In the bowl of a Kitchen-Aid mixer, add the flour, salt and Italian Seasoning. Attach a dough hook to the mixer. Gradually add the yeast mixture to the flour with the mixer running at medium speed. Continue kneading the dough until smooth and firm, about 5 or 6 minutes.

Remove the dough from the mixing bowl. Drizzle it with the olive oil and rub it to completely coat. Place it in a bowl, cover it and place the covered bowl in a warm place to allow the dough to rise for 20 minutes. It should be twice its original size when fully risen.

Once risen, roll the dough out on a lightly floured surface, to about 1/8th-inch thick. Using a 3-inch round ring cutter, begin cutting out the dough nibbles. Use your space efficiently. You should get about 36 pieces.

Heat the canola oil, about 1-inch deep in a high sided pan, to 375 degrees F. Working in batches, carefully fry the dough in the hot oil. It will be done in seconds. When golden brown, remove the dough and drain on paper towels. The dough will likely puff up, so, when you place them on the towels, gently press them down to flatten.

Preheat the oven to 350 degrees F

To build your pizza, top the pizzas with the cheese. Next, add the mushrooms, some sauce and the rest of the toppings.

Place the pizzas on a pizza stone and place them in the oven. Bake them for 5 to 8 minutes or until the cheese melts and they are heated through.
Placing the cheese on the dough first before the other ingredients, helps prevent the dough from getting soggy.
Please note that some ingredients and brands may not be available in every store.
Hilltop Red Apple Market
Recipes
https://www.theredapplemarkets.com/Recipes/Detail/8292/